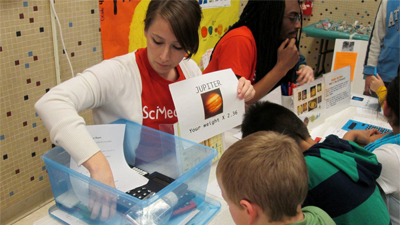 The Outreach Committee was created in 2012 with a dual purpose of increasing the visibility of the SciMed GRS program to the broader Madison community while also playing an important role in encouraging young minority students to pursue higher education in STEM fields. Our main goal is to expose underrepresented students of all age levels to STEM fields by engaging in relevant scientific discussions and hands on demonstrations. Our committee strives to disseminate information about the life sciences and highlight the importance of scientific research throughout our community.
Some of the activities we have participated in are organizing on-campus events to provide resources and insight to undergraduates considering doctoral programs in science and technology; representing SciMed-GRS at local and statewide science education events, holding several hands-on science education events at local elementary and middle schools, and starting partnerships with local community youth groups.
Elementary School Outreach: The goal for elementary school outreach is to provide early science exposure in an engaging environment. We feel that providing young children with opportunities to explore science in an exciting way contributes positively to scientific academic interests and career pursuits later on. Our science exploration tables and cooperative Science Nights with local schools allow for hands-on student participation.
žMiddle/High School Outreach: The goal for the middle/high school outreach is to create or build upon previous scientific interests and encourage students to pursue careers in STEM fields both in college and beyond. By performing hands-on science exploration tables or conducting college prep seminars, we are interested in equipping students with the tools and confidence necessary to believe a career in STEM is at their fingertips.
žUndergraduate Outreach: The goal for the undergraduate outreach is to encourage students to pursue higher education and careers in STEM fields. We plan to accomplish these goals by mentoring undergraduates, participating in seminars and student panels in partnership with campus groups; including the SROP, PEOPLE program, PASOS program, Chican@ and Latin@ Studies and MANRRS.

Visit the SciMed GRS Outreach Website for additional informaton.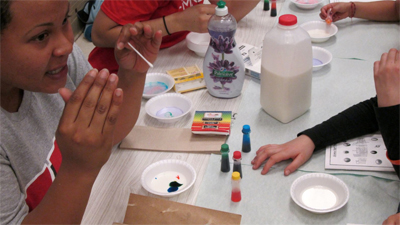 Out-going chair: Nadia Khan

In-coming chair

:
Mary Susan Lopez
Secretary: Jennifer Gilbert
Materials Coordinator: Adam Bolton
Communications Specialist: Sofia Macchiavelli Giron
Elementary School Coordinator:
Jen Grauer/Kalyanna Williams
Middle/High School Coordinator:
Dee Robinson, Jasenia Hartman
Undergraduate Outreach Representative: Nahin Cano